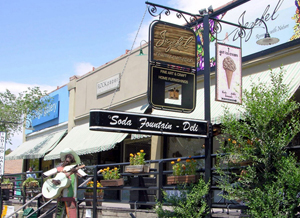 Madrid, New Mexico on the Turquoise Trail
Madrid, New Mexico sits midway along the Turquoise Trail and is the largest visitor stop along this National Scenic Byway. Madrid's colorful history begins in the 1800s as a booming coal mining town and still houses today one of the oldest traditional Road Houses, the Mine Shaft Tavern on Historic Madrid Main Street.
In the 1900s, the Madrid mine's foreman, Oscar Huber, built what is said to be the first lighted ballpark in North America, which still stands today. The grandstand has been renovated as one of New Mexico's Historic Preservation projects.
The Madrid Ballpark was central to life in this company-owned mining town. The stadium was home to the Madrid Miners, a farm team to the Dodgers, as well as rodeos and other community events. During the 1920s, additional stonework and a dugout was built by the WPA. In addition to the ballpark activities, the mining company provided the Madrid miners and their families, said to number about 3,000, unlimited electricity to their homes. Each year, all the homes in Madrid and the ballpark were lit up with elaborate lighting displays. These displays are said to be an inspiration for the original Disneyland.
By the 1940s, with the decline of the coal market, Madrid, New Mexico became a ghost town. In the 1970s, a group of pioneering artists and crafts people revitalized Madrid, restoring the abandoned Victorian homes and clapboard storefronts and creating a Madrid Main Street complete with galleries, restaurants, ice cream parlors, museum and general store. Today, Madrid, New Mexico is home to about 400 residents who continue to preserve the town's traditions including "Christmas in Madrid," complete with horse-drawn carriage rides and a light display that attracts visitors from around the world. Just recently, the creative residents of Madrid opened their own radio station – FM 96.9.
Just three miles North of Madrid village lies the traditional community of Cerrillos. The town is one of the oldest historically documented mining districts in the U.S., rich with a unique blue-green turquoise that bears the town's name and home to the Cerrillos Hills Park, a favorite for horse enthusiasts and hikers.